One of the mistakes a lot of us make is throwing away our plants or trees when we think that they are dead when in actual fact they are not!
Some plants and trees go through a dormant period, also known as the resting period, dormant season refers to the early winter weeks when both, the amount of daylight and temperature decrease. The trees stop growing, become inactive, and shed their leaves to conserve resources to remobilize and use them in the springtime.
How does plant dormancy work?
During winter, each plant is transformed differently.
Whatever the plants do in winter, it is their approach to survive in unfavorable weather conditions. Signs of dormancy vary from plant to plant. Some plants shed their leaves to retain the water they had stored during summer. As the weather conditions are not optimal at this time, seeds may stay weeks away from germination.
Follow our tips to make sure you know when your plant or tree is just resting for the winter or it is actually dead!
Is my plant dead or dormant?
After breaking the stem, look for hints of green in the newly exposed areas. Green indicates the plant is still alive, while no green means at least that part of the stem is dead. If you've found green, you know your plant is going to make it. If you don't see green, try gently scratching further down the stem.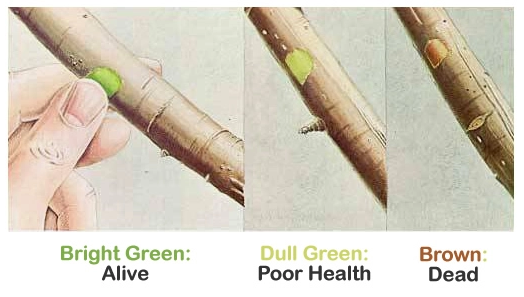 Is my tree dead or dormant?
To really be able to tell if your tree is dead or dormant is by checking the stems. You can check the stems by performing a "Scratch Test". To do this, you'll need a smooth knife, a sharp pruning tool, or your fingernail depending on the shape and size of the tree.
Lightly scratch a small piece of the bark away from the tree trunk, on the branch you desire to test. You want to look at the tissue behind the bark for signs of life. Healthy stems are firm and green on the inside. Stems that are brittle and crack easily are likely dead. If the stem is mushy, it is likely very dead. Green hues and dampness are also good signs. Dry, brittle, and brown bark indicates that the tree is dead.
So remember one simple rule when looking for signs of life in your dormant plants and that is that green must be seen!!!
How to care for dormant plants in winter?
Knowing what to do and what not to do for your dormant plants in winter is very important. You need to change some of your plant care routines in winter to prepare them for spring.
Pause repotting
Avoid repotting your houseplants during winter. As the plants are dormant in winter, they may not recover quickly.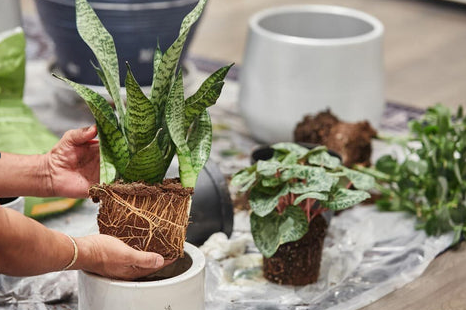 Avoid fertilizing
As the plants are in the resting phase in winter, they focus on living with what they have. If we provide extra food to the plants, they will not use it and it can disturb their natural growth cycle. So it is better to avoid fertilizing them.
Reduce watering
Winter means the shorter length and the shorter day length means a lower rate of photosynthesis. Plants need water during their active growth but not here. So, instead of watering blindly, do check how the soil feels. If it is moist, do wait for a couple of days to give water. But when you water, water the plant thoroughly.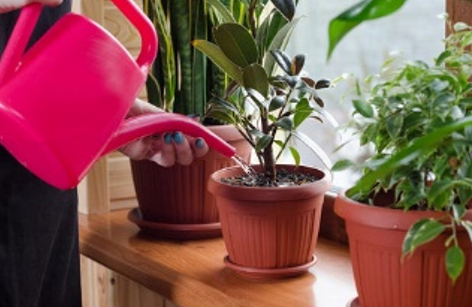 Mulching
Mulching can help to retain the moisture in the soil. It prevents moisture from evaporation and thus helps in keeping the soil moist even in the dry season. Mulching also helps to prevent damage to the roots due to the cold weather of winter.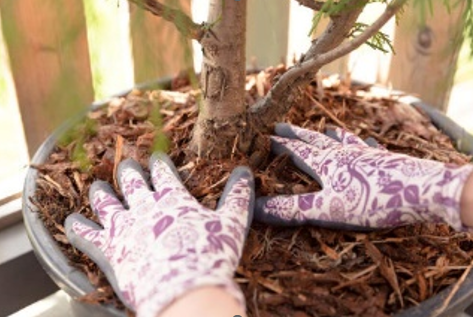 Keep your plants away from heaters 
If you reside in a place where winter temperatures fall below 15°C, then move your plants away from the direct air draft from heaters and windows.
Move your plants together to create warmth
To create a humid microclimate, move your plants together out of the direct cold and dry winds. This helps your plants to stay warm and humid.
Do check for any pests
As the plants are in lower humidity levels, the leaves become the best resident site for many pests. So do check for the pests such as spider mites, aphids, and scales underside of the leaves. If you find any wipe them off or spray neem oil.