Join us for our annual Herb Weekend 2023 between the 31st of March to the 2nd of April – Click here for more info.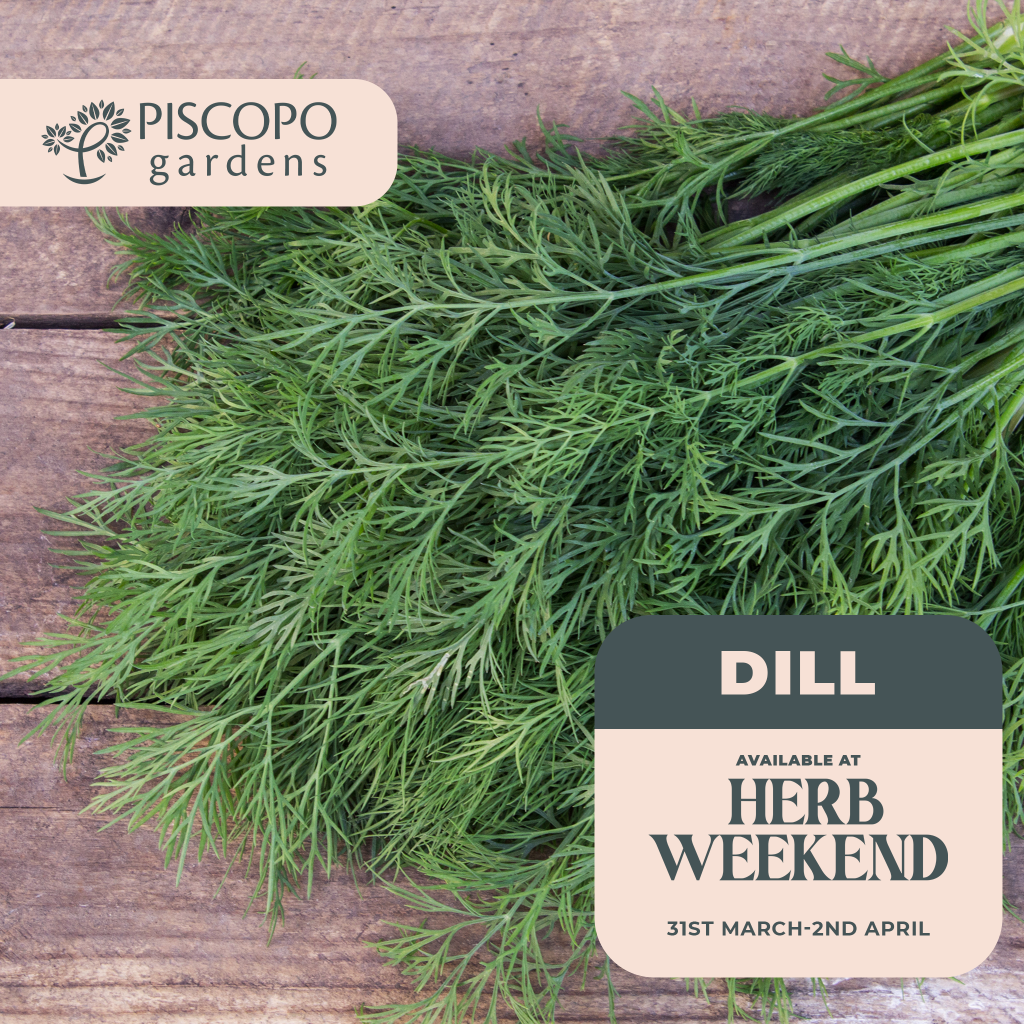 ---
What Is Dill?
Dill, also known as dill weed, is a green, fragrant plant in the celery family (aka Apiaceae). Scientifically known as Anethum graveolens, dill's common name comes from the Norweigan word "dilla," meaning to soothe. The culinary herb consists of the dill leaves, however, every part of the dill plant is edible, including the seeds, stems, and flowers.
Native to southwest Asia, dill is commonly used in Mediterranean cooking and pairs particularly well with fish, pickled vegetables, light salads, creamy dressings, and egg dishes. In season during spring and early summer, dill is associated with fresh, warm-weather dishes and ingredients. Although dried dill weed can be found in supermarkets, the fragrant herb is best used fresh to get the most out of the herbaceous flavor.
What Does Dill Taste Like?
This fresh herb has an herbaceous, grassy, and slightly tangy flavor with notes of anise. The distinct taste of dill stands out in most recipes, and therefore the herb is typically used in limited quantities so as not to overpower a dish. Dill's flavor diminishes rapidly during the cooking process, so it is most commonly added to hot dishes at the end of cooking or used in cold dishes, like salads and dressings.
Dill seed, on the other hand, should be toasted in a pan over medium-high heat before use to unlock the flavor and aroma. These seeds have a flavor reminiscent of caraway and can be found in the spice aisle of the grocery store.
What Does Dill Look Like?
When purchasing fresh dill from the farmers' market or produce section, look for bright, unwilted leaves with no discoloration. The herb should be handled delicately, as the fronds can bruise easily. The herb dill is recognizable for its:
Delicate, feathery leaves
What Are the Health Benefits of Dill?
This useful herb has a number of health benefits thanks in part to the fiber, phytonutrients, calcium, manganese, vitamin A, and vitamin C contained in the plant. Throughout history, humans have been using dill to fresh breath and help alleviate stomach pain and digestive issues, among other ailments.
11 Dill Recipes
1. Dill Pickles: A popular pickled-cucumber preparation using vinegar, water, pickling salt, dill seed and/or fresh dill, and whole garlic cloves.
2. Creamy Dill Potato Salad: A summery side dish made with red new potatoes, sour cream or mayonnaise, green onions, dried dill weed, black pepper, and kosher salt.
3. Tzatziki Dip: A traditional Mediterranean dish made with cucumber, greek yogurt, dill, lemon juice, kosher salt, black pepper, and minced garlic.
4. Smoked Salmon With Dill: Cold smoked salmon topped with lemon juice and dill. Often served on a bagel with cream cheese, or try it on top of a pizza with Chef Wolfgang Puck's recipe from Spago.
5. Beet Borscht With Dill: A classic eastern European soup made with beets, onion, carrot, beef broth, and shredded cabbage, topped with sour cream and fresh dill.
6. Mahi Mahi in Lemon Dill Sauce: Grilled mahi mahi served with a light sauce of white wine, lemon juice, olive oil, and fern leaf dill.
7. Lemon-Dill Pesto: A spring-friendly take on a classic made with fresh dill, pine nuts, garlic, fresh lemon, red pepper flakes, and olive oil.
8. Cucumber Salad With Dill Dressing: Cold sliced or diced cucumber with onion and a fresh dill vinaigrette.
9. Grilled Lamb With Dill: Lamb marinated in olive oil, chopped dill, and rosemary, grilled over a flame.
10. Dijon Mustard and Dill Chicken: Skinless chicken breasts cooked in an instant pot or slow cooker with a dill sauce of dijon mustard, chicken broth, lemon juice, fresh dill, and olive oil.
11. Lemon-Dill Green Beans: Steamed green beans tossed in olive oil, lemon juice, salt, pepper, and fresh dill.
Source: https://www.masterclass.com/articles/learn-how-to-cook-with-dill-plus-11-dill-recipes
---
Sowing
Dill is mainly sown from late spring to mid-summer outdoors. It can also be sown in plug trays indoors but dislikes its roots being disturbed by transplanting, so needs careful handling.
Give dill a warm, sunny growing position in fertile, free-draining soil or a large container. It dislikes cold, soggy conditions.
Sowing indoors
To start dill off indoors, fill a modular tray with seed compost, water gently, then sow one seed per module. Keep at a temperature of at least 15°C. Dill can be sown virtually all year round to grow on a sunny windowsill or in a warm greenhouse, but for transplanting outdoors sow from mid-spring to early summer.
Seeds should germinate in about a week. Keep the seedlings in bright light and water regularly until ready to transplant outdoors.
Sowing outdoors
You can sow dill seeds outdoors from late spring (after the last frost) to mid-summer, once the soil has warmed up. Sow seeds thinly in 1cm (½in) deep drills and cover lightly with soil. Allow 30cm (12in) between neighboring rows.
Cover with cloches or fleece to protect the seedlings if temperatures drop, as exposure to cold could cause them to bolt (flower prematurely).
Thin out dill seedlings when large enough to handle, to 15cm (6in) apart, and take steps to deter slugs and snails.
You can also sow dill in a large container filled with peat-free multi-purpose compost or in a growing bag. Dwarf varieties are ideal for this. Thin out the seedlings when large enough to handle, to 10cm (4in) apart.
Sowing small batches of dill seeds every few weeks will give you a constant supply of young leaves through to autumn – see our guide to successional sowing. Each plant will produce leafy harvests for weeks, although flowering will curtail leaf production sooner or later.
Transplanting
After the last frost in your area, from late spring to early summer, you can move dill seedlings outdoors, into the ground or into large containers. Do this when the seedlings are about four weeks old, before their tap root forms. Newly bought dill plants should be planted outside in the same way.
Harden off the plants first, slowly introducing them to outdoor conditions.
Water young dill plants before transplanting, then gently lift them from their module or pot and plant straight in the ground, without disturbing the roots. Space plants 15cm (6in) apart, water in well and protect from slugs and snails.
You can also plant several young plants into a large container, at least 30cm (1ft) wide and deep, filled with multipurpose compost. Space plants 10cm (4in) apart and water in well. They will be happy in a growing bag too.
Plant Care
Water dill regularly to deter premature flowering, and keep the soil free of weeds. Tall plants may need support. Apart from that, dill needs little maintenance, although do sow new batches regularly as plants may only produce leaves for a few weeks in the height of summer before they start to flower. Take care to protect dill plants from slugs and snails.
Watering
Aim to keep the soil consistently moist. In hot, dry weather dill is prone to bolting, but regular watering can delay this. Plants in containers need particular attention, as the compost can dry out very quickly in warm weather. But, equally, don't let conditions become waterlogged, as that could lead to rotting.
---